The Lodgings of The Chambaudiere © All rights reserved - Property of the Real Estate Company Les Plochères - 2006
Lodgings classified

Open throughout the year !!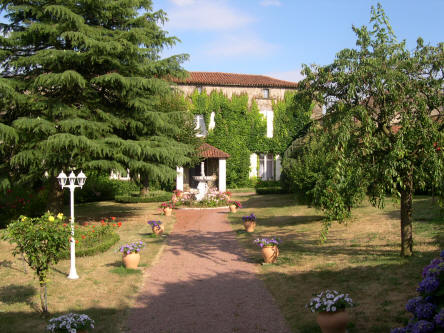 Place of your holidays !
Two rural lodgings have been built in the Dwelling of the Chambaudiere, typical house in Vendée from the XVIth century.
The property, built in granite and "Pierre des Plochères" (unique geological settings) has the particularity of including a family mansion, two adjoining wings (being at first two independant farms with their own properties), a return with a porch, on a 1,6 ha parcel of land with a inner landscaped garden, on top of a hill.
The lodgings are oriented on the theme of Nature because of their geographical settings (on top of a hill, with a splendid view on Pouzauges and the isolated grove, on a vein of the famous "Pierre des Plochères"), we have pathes of hike, at 500 meters from the Grand Lay's spring.
We are at :
1 kilometer from a tennis court
5 kilometers from the spare-time base La Tardière, swimming pool, elastic jump…
7 kilometers from the biggest discotheque of the region (Réaumur)
9 kilometers from Pescalis (first european artifical site of fishing), Montgolfier, miniature port, discovery farms,
10 minutes from Vouvant, medieval city, one of the greatest village of France,
15 minutes from Mervent, forest massif with nautical and nature activities,
30 minutes from The Puy du Fou, from Fontenay le comte, Bressuire….
1hour from The Marais Poitevin, Poitiers, Niort, Cholet, La Roche sur Yon
1h15 from La Rochelle, Futuroscope or beaches of Vendée.
Sightseeing : Roman and gothique art…Castels… A infinite wealth of the regional patrimony to discover, without forgetting Saint Valentin's relics at Saint Pierre du Chemin…. The Sciences museum of Réaumur is at 5Km.
Update: 2009